Telling
SMALL BATCH CANISTER SPECIAL - c. a.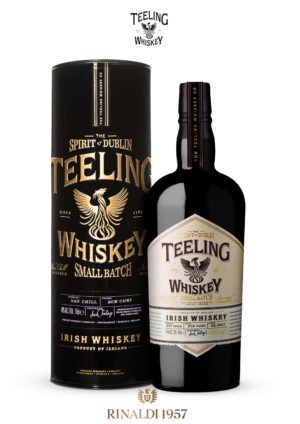 TELLING SMALL BATCH CANISTER SPECIAL - c. a.
Spedizione tra domani e il 15 aprile
The Teeling Whiskey Co. è l'erede di un'antica dinastia di distillatori irlandesi, i Teeling, attivi nel settore fin dal 1782. L'Azienda è oggi condotta dai fratelli Jack e Stephen Teeling, che fino a poco tempo fa hanno ricoperto posizioni di vertice nella Distilleria Cooley, prima che quest'ultima fosse ceduta al gruppo statunitense Jim Beam. The Teeling Whiskey Co. ha oggi l'obiettivo di riportare sul mercato l'autentica tradizione artigianale, ormai scomparsa, del Whiskey irlandese di alta qualità: per questa ragione il suo emblema è l'immagine di una fenice che "rinasce" da un alambicco stilizzato. Per rendere concreta e visibile la loro missione imprenditoriale, Jack e Stephen Teeling hanno aperto la loro Società nel cuore di Dublino, la capitale della Repubblica d'Irlanda, dove da oltre un secolo non venivano avviate attività legate alla produzione di Whiskey.Questo prodotto non viene sottoposto a filtrazione  freddo, di conseguenza conserva tutti gli aromi più sottili e delicati della materia prima. Subisce un primo passaggio in fusti di quercia e un secondo passaggio in fusti che hanno contenuto il Rum. Si presenta con un colore dorato brillante, con note di vaniglia e di spezie che si uniscono a piacevoli sentori di Rum.Nonostante l' alta gradazione rimane morbido con sentori di vaniglia.
Telling
0,70 L
46%
Dublino - Irlanda